QuickTimeTM Movie of the JayceWeek*
I've got video capture. I've got many movies lying around. I've got a web page. Hence, this page.
I started using QuickTime 3.0 with the Sorensen codec, so you'll have to go to Apple's QuickTime page to get the player. I've also started using some of the audio codecs because the audio was really starting to be the controlling factor with the size of some of the movies. Let me know if you have any problems playing them.
For 1999-Mar-17 (St. Patrick's Day, incidentally), I finished a made-up "Urge King" commercial parodying the Burger King ones on the air in recent months which use an old, popular tune as a backdrop to convey their message. Mine sports the tune "Alone Again (Naturally)" by Gilbert O'Sullivan from 1972 and carries a more morbid theme. I ditched all the trademarked stuff from my original version to avoid getting in real trouble. (798 KB)

For 1999-Jan-26, I dredged up a Michelob ad from 1987 which features Wang Chung's "Everybody Have Fun Tonight" as the feature song. I found it on a boatload of collections at CDnow, but alas not from any original Wang Chung album. (1.0 MB)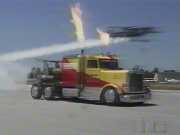 In the middle of November, 1998, there was an episode on trucks on Extreme Machines on The Learning Channel. One of the trucks featured was Les Shockley's "Shock Wave" driven by Kent Shockley. It's a modified 1985 Peterbilt truck with three jet engines mounted on the back. It consumes 120 gallons of diesel fuel per run (stated as 400 gallons per mile in the show) to produce 36,000 horsepower. In 1992, Shock Wave set the world speed record for trucks at 376 miles per hour. According to a drag race list on Drag Racing List Online, in Kansas in 1996, Les Shockley drove Shock Wave to a 7.505 second quarter mile at 236.22 miles per hour. Anyhow, for 1998-Dec-1, here's a clip from the show depicting a drag race between Shock Wave and a stunt plane at the 1997 (?) Salenas, California Air Show. I edited the footage some to my liking to better show the actual race. For reference, I think the plane is travelling somewhere between 100 and 140 miles per hour. (800K)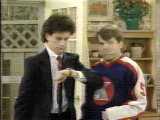 For 1998-Mar-12, I pulled out an old tape from Kids in the Hall (watch for the old Comedy Central logo) which is the sketch where Corey (Bruce McCulloch) brings home Mr. Stevenson (Kevin McDonald), a stray businessman, to meet his mom (Scott Thompson). (8.2 MB)

I won't count this as a JayceWeek, but as of 1998-Jun-20, the Home Cam page now has a QuickTime movie of the past hour or so. It's the first to use QuickTime 3.0 with the Sorensen codec.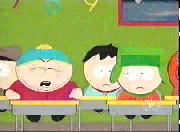 The JayceWeek movie of 1998-Mar-12 is a clip from the "Kathy Lee Episode" of South Park. It's Cartman complaining about Rainbows. (950 KB)

On 1997-Nov-14, we had quite a little snowfall. Expecting it, I set up the Home Cam to store each image. Then I made a time-lapse movie of the results. The JayceWeek movie of 1997-Nov-16) is the time-lapse of the snowfall we had on that day. (1.2 MB)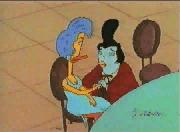 For the JayceWeek of 1997-Oct-20, I had a clip from Duckman. It's King Chicken (Tim Curry) proposing to Bernice (Nancy Travis) with commentary from Cornfed (Gregg Berger).
The JayceWeek movie of 1997-Aug-15 was the Volkswagen Golf commercial. I just can't get enough of these two guys. I put this back up on 2001-Jul-16 and recompressed it (from my only original copy of this 5.7MB QuickTime movie) to 320x240 with a smaller file size. Still not satisfied, I tried a few more tricks and eneded up with the one you see now which looks a little better. (6.7 MB)

Some people have asked about the song. It's called "Da da da (I don't love you, you don't love me, ah ha)" by Trio. I personally don't have anything by Trio, but you can buy the CD from CDNow.

I've gotten one e-mail so far about a screen saver based on the commercial. I haven't heard about this, but if I do, I'll be sure to post info.

---
* JayceWeek - (n.) about a week or a month.

---
You are visitor
since 1997-Aug-15.

Last updated 2001-Jul-16