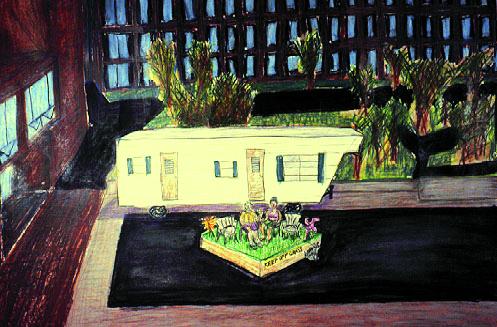 a life-size installation sculpture by
Alexandra Whitman
March 10, 1997-May 2, 1997
Rochester Institute of Technology
Academic Quad (near the Japanese Garden)
Opening reception March 14, 1997
All are invited to attend.
---
Hours:
Monday, Wednesday, and Friday
Tuesday
Other times by request
---
Ruckus RIT is an installation sculpture involving a 10 foot by 40 foot trailer home with two sculpted people seated in front. It is a work by Alexandra Whitman for her Fine Art thesis of American Culture as Art.

Since she has now graduated, you can no longer contact Alexandra Whitman directly. I can forward information on to her through webm...@jayceland.com. The press release provides another insight.

You are visitor
to this page since 1997-Feb-23.
---
Updated 1998-Sep-21 If you have problems with this page, send mail to webm...@jayceland.com